PLAN YOUR OWN TEMPORARY USE JOURNEY!
Eintrag von am 30.10.2018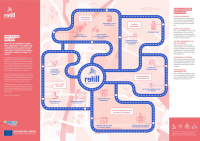 Who can still remember vacant spaces and buildings, which someday were spaces free of rules, a ground for fertile experimentation, individual empowerment and creativity development? We could grow and empower ourselves as we can remember from the 50s' film "Le chantier des gosses(link is external)", where children were spending their leisure time in an yet-to-be-built abandoned lot in the very centre of the city of Brussels, and where the nephew of Tati's "My Uncle(link is external)" was eating doughnuts and whistling at pedestrians so that they would bump into a lamppost.
Vacant (abandoned places, urban wastelands, brownfields, derelict lands, degraded and deteriorated lands or buildings) can still foster creativity and experimentation for the city, benefitting from a Temporary Use. And many cities have experimented with them over the past few decades, putting together a source of inspiration for innovation and change and thus providing a new driver and incubator for urban development.
During two and a half years, the URBACT REFILL network sought to identify ways to access Temporary Use, notwithstanding the municipalities' stage of implementation of Temporary Use projects. These ways are compiled in the REFILL Temporary Use Roadmap(link is external). "There are many entries to the Temporary Use of vacant spaces and buildings. These are not linear, depending on each of the cities' point of departure but also interests and needs." explain François Jégou and Marcelline Bonneau, Lead experts of the REFILL network.
ZZZ - ZwischenZeitZentrale Bremen
Zum Sebaldsbrücker Bahnhof 1
(WURST CASE)
28309
Bremen-Hemelingen
+49 (0) 421 69 58 126
Impressum
Datenschutz
Dokumentationen
Soziale Netzwerke